Lots of news is happening for our gal Mary! First up, I've added a great new outtake from Mary's Bullett Magazine shoot she did last summer with photographer Michael Donovan (via Sah D). If you missed the interview from the shoot, click here to read it as well as the behind the scenes footage here. Additionally, head to the gallery to check out the new outtake!
Also, Mary tweeted out some exciting news! She's finally completed her first album!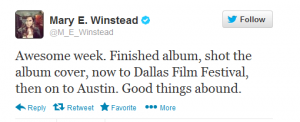 Back in July, Mary talked about working on her album with Dan the Automator and said "the inspiration behind it is, like, French '60s pop—Jane Birkin, and stuff like that. It's kind of married with Dan's sensibility, which is his beats and a little bit of that low-key hip-hop vibe."
And finally, as a reminder, Mary will be in Dallas tomorrow to receive her Dallas Shining Star Award at the 2013 Dallas Film Society Honors. Congrats!