Back in May, it was announced that the web-series The Beauty Inside which was directed by Like Crazy's Drake Doremus and starred Mary won an Emmy last night for Outstanding New Approaches.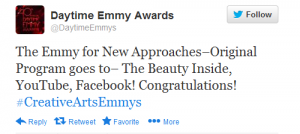 The non-televised event was held at downtown L.A.'s Westin Bonaventure hotel, and was hosted by voice-over stars Terese Ganzel and Bob Bergen.
You can view the complete list of Daytime Emmy Creative Arts winners here. The awards show itself will air tomorrow night June 16, at the Beverly Hilton and air on HLN at 8pm ET.
Congrats to Mary and all involved in the series! 🙂