Today is the summer press tour day for Mary's new show BrainDead, premiering one week from tonight at 10pm on CBS! I've added new photos of Mary and Aaron giving interviews which you can view in the gallery.
Additionally, TV Line's editor got some
scoop
on the show saying that Robert and Michelle King (the creators of the show) have a 4 year plan for the show: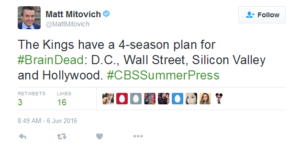 I will continue adding new press day photos as they roll out so keep checking back!