Earlier this month, Mary and her husband Riley stopped by Nitehawk Cinema in NYC for a special screening of their cult-deprogramming film FAULTS. In the Q&A, the two discussed audiences fascination with cults, the kind of research they did to produce the film (lots of news stories on lady sociopaths), and how being married affects their working relationship.
If you watched the video or attended the event, you already know that Mary and Riley will be re-teaming on his next film entitled The Art of Self-Defense. No other details have been given at this time, but I'll surely post them as new information comes out.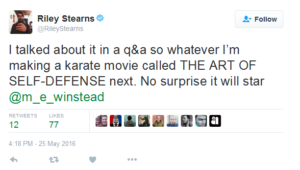 And in case you haven't seen the Q&A, you can watch it below:
Q&A: FAULTS w/ writer/director Riley Stearn & actress Mary Elizabeth Winstead from Nitehawk Cinema on Vimeo.