Mary sure is keeping busy! Aside from her debut album shortly being released on July 22 and currently filming the A&E televison series The Returned, she's now been cast in John Krasinski's The Hollars opposite Krasinski (who is directing and starring in), Anna Kendrick, Richard Jenkins and Charlie Day.
The film is about John Hollar (Krasinski), an aspiring NYC artist who takes his girlfriend (Kendrick) back to his Middle America hometown on the eve of his mother's (Margo Martindale) brain surgery. There he's forced to navigate the crazy life he left behind as his dysfunctional family, high school pals, his father (Jenkins), and his over-eager ex flood back into his life ahead of the operation.
While it hasn't been officially announced, Krasinski broke the news Mary was in the film via his Twitter.
Once you have a script… you need a cast. Aaaaand the fact I have these folks is surreal! #TheHollars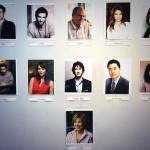 He continued by tweeting… New additions: Charlie day, Sharlto Copley, @M_E_Winstead , @joshgroban , @parkrandall , Ashley dyke and Mary Kay Place!!! #TheHollars
So far all we know is that Mary's character is named Gwen. Hopefully we'll know more as filming is set to begin next week in Mississippi!